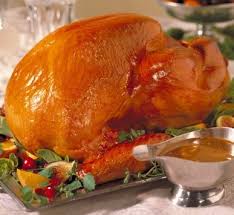 "The human spirit is stronger than anything that happens to it."
I recognize you are most likely reading the above quote and thinking what does that have to do with Thanksgiving. Well, I'll tell you. Growing up we had a house full of family for the Thanksgiving feast; aunts, uncles, cousins, Grandma…you name 'em and they were gathered in our small ranch home.
The ceremonial dinner was planned for noon as always and my mom took immense pride in preparing the turkey dressed in its finest! The night before rituals commenced with the production of the homemade dressing and shoving it inside that colossal bird enough to feed near thirty people. She enclosed that fowl and placed the roaster within the oven and set it to activate at 4:00am. Swollen with pride and pleased with her labor we went to bed in anticipation for the gathering of our family the subsequent day.
The next morning I awoke and got a whiff of that brilliant smell of turkey roasting and grinned as I made a momentary look toward the clock: 7:00am. I rose out of bed and meandered into the kitchen and was shocked at the words gracing my ears, coming out of my mother's mouth, a staunch Christian woman. 'God-damn son of a b----, well sh—' words I am most certain I had never even heard before!
The smell of the bird had truly been in my year's past mind. The oven failed had to turn on! My mom skittered around the kitchen slamming cupboards and the oven door, throwing pot holders and anything else she could get her hands on. She was swearing at the oven as if that would miraculously make it turn on or say, 'Gosh, I'm sorry. Let's try that again!
Meanwhile my sister and I took shelter. It was a wonder that raw bird and all that was stuffed up in it didn't go flying through the kitchen, living room and any other room of the house…tears, curse words and flurry filled that humble abode and we were taking cover!
Well, no harm no 'fowl'; hee hee! We may have had our Thanksgiving feast later than planned but it certainly made for amusement for the day and every gathering since. Each year following began with a 'Ummm, that turkey sure smells good! Did you turn the oven on?'
So on this blessed day, may your oven turn on and everything go planned accordingly!