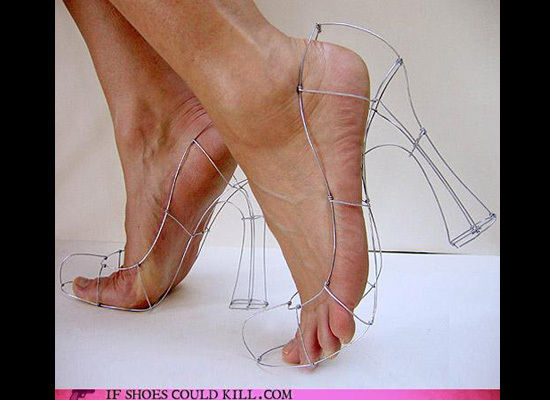 I must purchase a new pair of winter shoes since the gray flannel clogs I bought from L.L.Bean more than ten years ago finally have become so tattered and torn, wetness can seep in and soak my socks from the top. This is a bummer especially since they don't carry them anymore, probably don't even make them either which is a shame because I'm a creature of habit; I like comfort over what's in style or in vogue. I can easily admit I am NOT the epitome of fashion so this decision requires much thought and deliberation! So I thought it would be rather nice if you stop by and offer an opinion, or two.
So I thought I'd do a little research as to what could or might be my next pair of shoes and then, well maybe you can offer your opinion. You know tell me what you think.
Ummm, well, if I was going to Alaska to participate in the Iditarod race or maybe to the Yukon Territory for a great bear hunt, perhaps these would be the shoes for me, but perhaps I'll keep looking.
Oh my…if I had a strong desire to take a trip to the emergency room for a broken hip, ankle or otherwise, I certainly could buy these shoes.
What do you think of these? Perhaps these classy heels could be worn when I take off on my excursion to Africa for the Big Cats convention. Darling, they would be absolutely divine!
Or, I could consider one of these which might be my choice for those dresses I wear to educate my elementary school kids. I'm sure they would love the added entertainment to their day because certainly, I wouldn't be able to walk across the room!

Oh and these foot coverings…do you have an opinion you'd like to share? I would no longer have to hire a pet sitter to come and feed my hamsters' day in and day out. I could just take the critters with me! How convenient~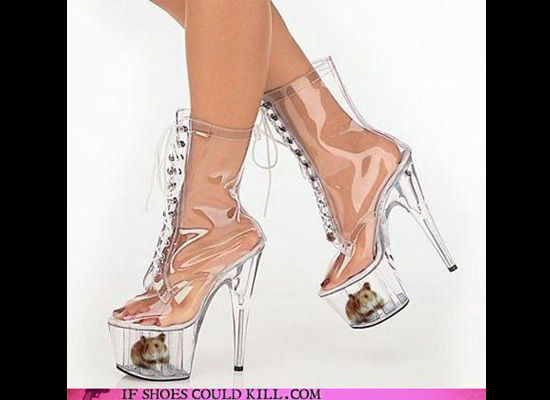 How can I possible resist these shoes; they are absolutely perfect for my bird-watching outings.
This excursion through the on-line store has certainly opened my realm of possibilities. Such as this pair...There's no place like home, There's no place like home...
Seriously now, this pair I thought I could wear for those close encounters I might have while riding horses. You see, the horse wouldn't know if it was trampling on me, or well me!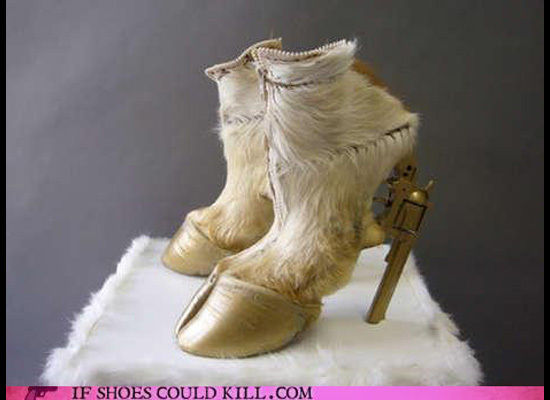 Do you like these? These platform sneakers are just what I need to enhance my work out attire. I'm positive I'll be standing tall with these on my feet!
Now this pair… They are my absolute favorite color and would match most of my shirts and sweaters so practical or not, they'd get plenty of wear for my money. My only concern is in the winter, if we happen to have snow in North Carolina my toes would get a tad cold.
I'm afraid I've just complicated my decision by exploring my alternatives in the shoe arena. For now, perhaps I'll just wear my dilapidated and frayed pair of clogs. At least I won't draw attention to myself!